Rincón, Puerto Rico - Caribbean Surfing, Diving, Whale Watching and So Much More!
Tourist Info and Listings for Rincon Vacation Rentals, Hotels, Activites, Services, Weddings, Shopping, Dining and Events
The Tourism Association of Rincón would like to welcome you to our "town of beautiful sunsets". This association was formed by concerned citizens, vacation rental owners and business people in 1994 who were committed to promoting the unique ambiance of Rincon while preserving and protecting the environment. Our members are only trusted local business owners.
The continued support of Our Members has made it possible to provide this website as well as help to fund many of Rincon's best events such as the Rincon International Film Festival, the Rincon Beachboy Standup Paddleboarding Contest, Rincon Oktoberfest and the Rincon Trialo. Visit and "Like" our Facebook Page for events, specials and updates from our Members.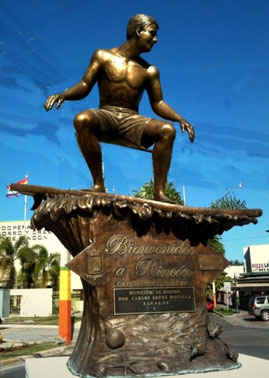 The 1968 World Championships of Surfing were held in Rincón
Although the word Rincon means 'Corner' or 'Niche' in Spanish and is a perfect description of our location in the northwest corner of Puerto Rico, where the Atlantic Ocean meets the Caribbean Sea - the name originates from Don Gonzalo Rincon, a 16th century landowner who allowed various poor families to reside on his land.  This 'corner of Puerto Rico' has been Puerto Rico's favorite vacation destination for years! Its unique location is where the Atlantic meets the Caribbean.
The North Coast of Rincon has some of the best surfing waves in the world when the currents collide from October till April.  The South Coast of Rincon has some of the best swimming beaches, with calmer, clear blue water.  In between are the beautiful seascapes of the Sunset Coast and the activity of the Downtown and Marina. 
Surfing made Rincon famous - but it has become a major resort destination year-round. Winter is high season for surfers, whale-watching and escaping the cold northern winters. Don't surf? Rincon has some of the most beautiful calm water beaches on its south Caribbean side, perfect for swimming or standup paddleboarding (SUP), one of the fastest growing sports in the world. Hotels, vacation rentals, restaurants and beaches are full of activity and there is always lots to do: SCUBA Diving off nearby Desecheo Island, snorkeling, horseback riding, deep-sea fishing, sailing, mountain biking, swimming, yoga and massage, long walks on the beach and of course those unforgettable sunsets every night as the sun sets over the Caribbean.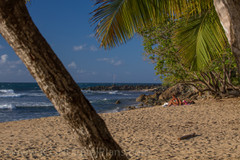 In the summer, Rincon relaxes and turns into a sleepy Caribbean village that shows a different personality. The wild surf calms down to create intimate, secluded beaches where snorkeling takes the place of surfing. This is one of the favorite times for Caribbean residents to visit Rincon. July is actually our busiest month, since all of Puerto Rico goes on vacation - and bookings are required far in advance! Rincon boasts world-class resorts, intimate hotels, villa-style apartments, vacation rentals and guest houses that make it a great choice for your next vacation! However, we haven't lost our 'old time' Caribbean charm. There is no 'resort strip' in Rincon - our guests are just another part of life in paradise. Rincon has also become one of the Caribbean's best wedding destinations, with all the services and a wide variety of wedding venues to choose from.  
Although a small town, Rincon boasts several different personalities depending on the area of town you explore. You'll enjoy the surf and activity of The North Coast, the intimate beaches and spectacular show every evening on The Sunset Coast, Downtown Rincon's traditional plaza and emerging dining and arts scene, and the long swimming beaches of Rincon's South Caribbean Coast. You'll meet local residents, visitors who bought second homes here after the 'fell in love' with Rincon and tourists from all over Puerto Rico, the Caribbean and the world.
Once you discover the natural Caribbean charm of our special corner of Puerto Rico - we're sure you'll fall in love with Rincon and come back again and again. And if you fall in love like many of our past guests, we have several Rincon real estate agents listed on our website to help you purchase your home, villa, condo or land in Rincon, Puerto Rico.  To plan your trip Purchase a Rincon map on our Directories Page.   For more travel information, see our Rincon Visitors Information Page.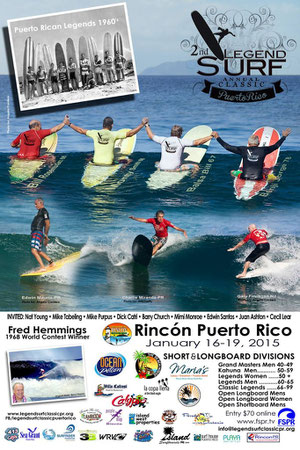 The Second Annual Legend Surf Classic Puerto Rico takes place from the 16th to the 19th of January 2015 in Rincon, Puerto Rico. This year's event proudly features two of surfings greatest champions: Hawaii's Fred Hemmings, the winner of the 1968 World Championship which was held in Rincon, Puerto Rico and Australia's Nat Young, the 1966 World Champion and a finalist in the 1968 World Contest.
Introduced by Monty Smith in 2014, The Legend Surf Classic Puerto Rico has embraced its mission to "Promote and Celebrate the Surfing History and Culture of Puerto Rico." This nonprofit event does so by recognizing the original surfers who started surfing in Puerto Rico and by recognizing surf legends from around the world who have had an impact on Puerto Rico's surf culture.
The 1968 World Surfing Championship brought international recognition by surfers and beach lovers worldwide to the natural beauty and consistent winter surf of Puerto Rico and RIncon in particular. The 1968 World Surfing Championship proved to be the major catalyst in the economic development of the Northwest part of the Island that continues to this day. The 1968 World Championship is also the contest that put the short board revolution on center stage with the futuristic surfing of Wayne Lynch and Reno Abellira charging on an early Brewer mini gun and was won by Hemmings in a close decision over Midget Farrelly in excellent eight foot Rincon Point surf.
As participants in the historic 1968 contest, Hemmings and Young are very appropriate guests for this year's event. In addition to winning his 1968 world title in Rincon, Hemmings has a strong resume of international contest victories in Hawaii and Peru. After retiring from competitive surfing, Hemmings continued to be a major influence in the sport as a professional surf contest promoter. In 1971, he created the Pipeline Masters. In 1976 he was the driving force in the formation of the International Professional Surfers (IPS), the first worldwide surfing circuit and predecessor to the Association of Surfing Professionals (ASP) tour. And, in 1983, he founded Hawaii's Triple Crown of Surfing.
Young won his 1966 world title and in the process became one of the world's leading proponents of short board surfing. After a hiatus from competitive surfing, Young reignited his competitive drive and reinvented his surfing during the early years of professional longboarding, winning world titles in 1986, 1988, 1989, and 1990. Smith, a legendary figure himself in the development of surfing in Puerto Rico, is dedicated to bringing surf legends from all over to participate.
In addition to Hemmings and Young, prominent East Coast Surf Legends Dick Catri, Jack "Murph the Surf" Murphy and Bill Yerkes among others will be in Rincon to celebrate the role surfing has played in contemporary Puerto Rican culture and in the development of the town of Rincon and surrounding area. Smith states that, "The Legend Surf Classic Puerto Rico will grow in size and scope each year in anticipation of the 50th anniversary of the 1968 World Surfing Champioship and our hope is to inspire generations to come."
The 2nd Legend Surf Classic Puerto Rico has a 4 day window for the two day contest and one day for a Paddle board event and expression sessions. The Contest entry fee is $70 per division with two divisions costing $100. Contestants will be invited to special Legend activities and each participant will receive great goodie bags worth $60 or more. Online contestant entry forms can be found at, EventBrite.com, and additional event information is available at http://www.legendsurfclassicpr.org/ For further information please contact Monty Smith info@legendsurfclassicpr.org Joe McGovern jmsurfphoto@aol.com submitted by Joe McGovern Stateside Director of Public Relations Legend Surf Classic Puerto Rico
The Tourism Association of Rincon is a proud sponsor of this event.  If you haven't already book your trip now to attend and celebrate the Legends of puerto Rican Surfing.  Find places to stay in Rincon here

2 Comments
Contact the Tourism Association of Rincón: