Rincón, Puerto Rico - Caribbean Surfing, Diving, Whale Watching and So Much More!
Tourist Info and Listings for Rincon Vacation Rentals, Hotels, Activites, Services, Weddings, Shopping, Dining and Events
The Tourism Association of Rincón would like to welcome you to our "town of beautiful sunsets". This association was formed by concerned citizens, vacation rental owners and business people in 1994 who were committed to promoting the unique ambiance of Rincon while preserving and protecting the environment. Our members are only trusted local business owners.
The continued support of Our Members has made it possible to provide this website as well as help to fund many of Rincon's best events such as the Rincon International Film Festival, the Rincon Beachboy Standup Paddleboarding Contest, Rincon Oktoberfest and the Rincon Trialo. Visit and "Like" our Facebook Page for events, specials and updates from our Members.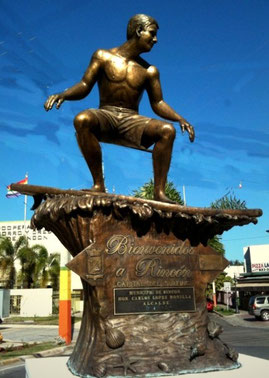 The 1968 World Championships of Surfing were held in Rincón
Although the word Rincon means 'Corner' or 'Niche' in Spanish and is a perfect description of our location in the northwest corner of Puerto Rico, where the Atlantic Ocean meets the Caribbean Sea - the name originates from Don Gonzalo Rincon, a 16th century landowner who allowed various poor families to reside on his land.  This 'corner of Puerto Rico' has been Puerto Rico's favorite vacation destination for years! Its unique location is where the Atlantic meets the Caribbean.
The North Coast of Rincon has some of the best surfing waves in the world when the currents collide from October till April.  The South Coast of Rincon has some of the best swimming beaches, with calmer, clear blue water.  In between are the beautiful seascapes of the Sunset Coast and the activity of the Downtown and Marina.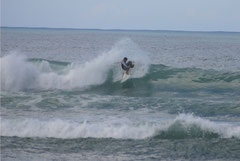 Surfing made Rincon famous - but it has become a major resort destination year-round. Winter is high season for surfers, whale-watching and escaping the cold northern winters. Don't surf? Rincon has some of the most beautiful calm water beaches on its south Caribbean side, perfect for swimming or standup paddleboarding (SUP), one of the fastest growing sports in the world. Hotels, vacation rentals, restaurants and beaches are full of activity and there is always lots to do: SCUBA Diving off nearby Desecheo Island, snorkeling, horseback riding, deep-sea fishing, sailing, mountain biking, swimming, yoga and massage, long walks on the beach and of course those unforgettable sunsets every night as the sun sets over the Caribbean.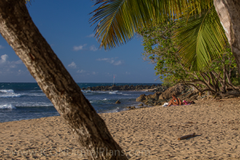 In the summer, Rincon relaxes and turns into a sleepy Caribbean village that shows a different personality. The wild surf calms down to create intimate, secluded beaches where snorkeling takes the place of surfing. This is one of the favorite times for Caribbean residents to visit Rincon. July is actually our busiest month, since all of Puerto Rico goes on vacation - and bookings are required far in advance! Rincon boasts world-class resorts, intimate hotels, villa-style apartments, vacation rentals and guest houses that make it a great choice for your next vacation! However, we haven't lost our 'old time' Caribbean charm. There is no 'resort strip' in Rincon - our guests are just another part of life in paradise. Rincon has also become one of the Caribbean's best wedding destinations, with all the services and a wide variety of wedding venues to choose from.  
Although a small town, Rincon boasts several different personalities depending on the area of town you explore. You'll enjoy the surf and activity of The North Coast, the intimate beaches and spectacular show every evening on The Sunset Coast, Downtown Rincon's traditional plaza and emerging dining and arts scene, and the long swimming beaches of Rincon's South Caribbean Coast. You'll meet local residents, visitors who bought second homes here after the 'fell in love' with Rincon and tourists from all over Puerto Rico, the Caribbean and the world.
Once you discover the natural Caribbean charm of our special corner of Puerto Rico - we're sure you'll fall in love with Rincon and come back again and again. And if you fall in love like many of our past guests, we have several Rincon real estate agents listed on our website to help you purchase your home, villa, condo or land in Rincon, Puerto Rico.  To plan your trip Purchase a Rincon map on our Directories Page.   For more travel information, see our Rincon Visitors Information Page.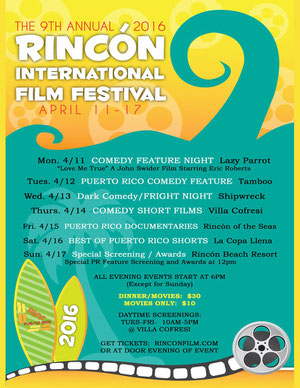 Every April, the town of Rincon, Puerto Rico winds down it's high tourist season with a flurry of events and festivals and this year is no exception!
First up on April 9th is the 8th Annual  Rincon Beachboy Standup Paddlebaord Race, one of Rincon truly memorable events for the whole family.  Each year hundreds of SUP racers gather at the Hotel Villa Cofresi for Standup Paddleboard races in a number of different categories, including, kids, amateur and pro distances.  Whether you are competing for the $10,000 in cash prizes or watching the race from the shore, the Rincon Beachboy is an afternoon full of excitement, fun and a great day for the whole family.  www.rinconbeachboy.com for more info.
This will be the 9th Annual Rincon International Film Festival, April 11-17.  This festival has grown each year with select films in Documentary, Drama, Horror and Comedy genres, as well as short and animated films.  Evening screenings are held throughout the week at various locations in Rincon, with daytime screenings all week at the Hotel Villa Cofresi.  The final night at the Rincon Beach Resort is a Special Screening and the awards.  Many nights sell out early so to make sure you get your seat, buy advance tickets online, www.rinconfilm.com.
And we cannot forget about the Rincon Festival de la Ballena, (Whale Festival) held each year at the El Faro Lighthouse park.  It is a two day event with local art, food kiosks and live music, held this year April 16-17.  Each year this is a very popular event for locals and tourists with great live music.
For updates on all Rincon Events and Festivals, see our website Upcoming Events Page and follow our Facebook page, enjoy your Rincon Vacation!
Contact the Tourism Association of Rincón: